Volunteer Signup
Thank you for your interest in volunteering at the 2021 Columbus Buddy Walk®! We have numerous opportunities available on September 25, 2021 for T-Shirt Pick Up and October 3, 2021 for the actual event at Fortress Obetz. Please use the button below to sign up!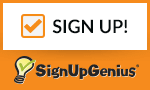 We will contact you closer to the event date with further details. Please be sure to mark your t-shirt size - you will receive a volunteer t-shirt when you arrive. We will require unvaccinated volunteers to wear a mask for the duration of your volunteer shift to keep our families and kids safe!
If you have any questions, please contact Evanthia Brillhart at ebrillhart@dsaco.net. Thank you!